Global energy crisis drives aluminum prices over $3,100/ton
Aluminum jumped to the highest since 2008 as a deepening power crisis squeezes supplies of the energy-intensive metal that's used in everything from beer cans to iPhones.
Ending last week's trading session on the London LME Exchange, aluminum rose as much as 7% from a week earlier, reaching $3,170 a ton, the highest since July 2008, leading broad gains among base metals.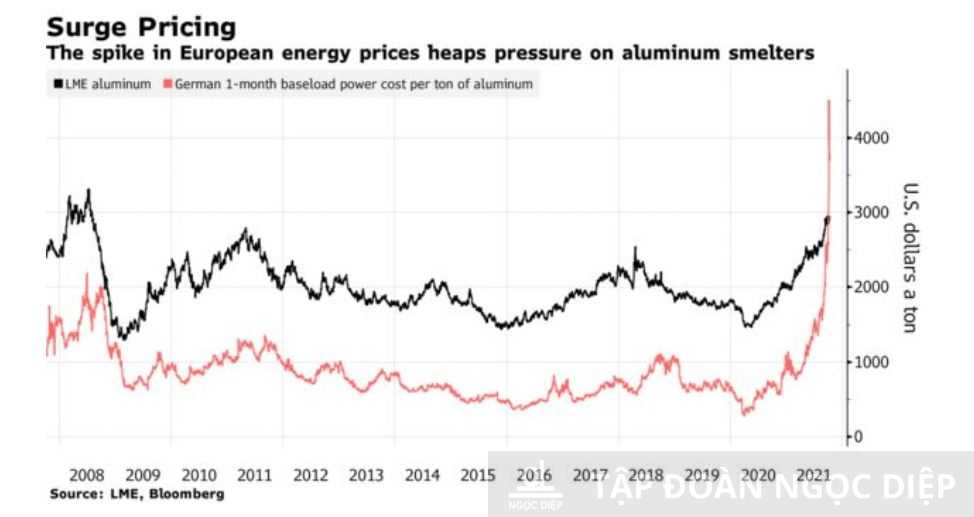 The world aluminum price has increased by more than 60%, surpassing the USD 3,100/ton mark by 2021 (Photo: Bloomberg)
Global energy crisis
The wave of metal supply cuts is spreading from China, India to Europe, stemming from a global energy crisis caused by shortages from natural gas to coal and oil, causing electricity shortages and increasing electricity prices, pushing up metal production costs. Natural gas stocks in many countries have been depleted and fears of a cold winter in the Northern Hemisphere are resulting in stiff competition among buyers in Europe, Asia and North America for energy in time to fill the stockpile for next winter.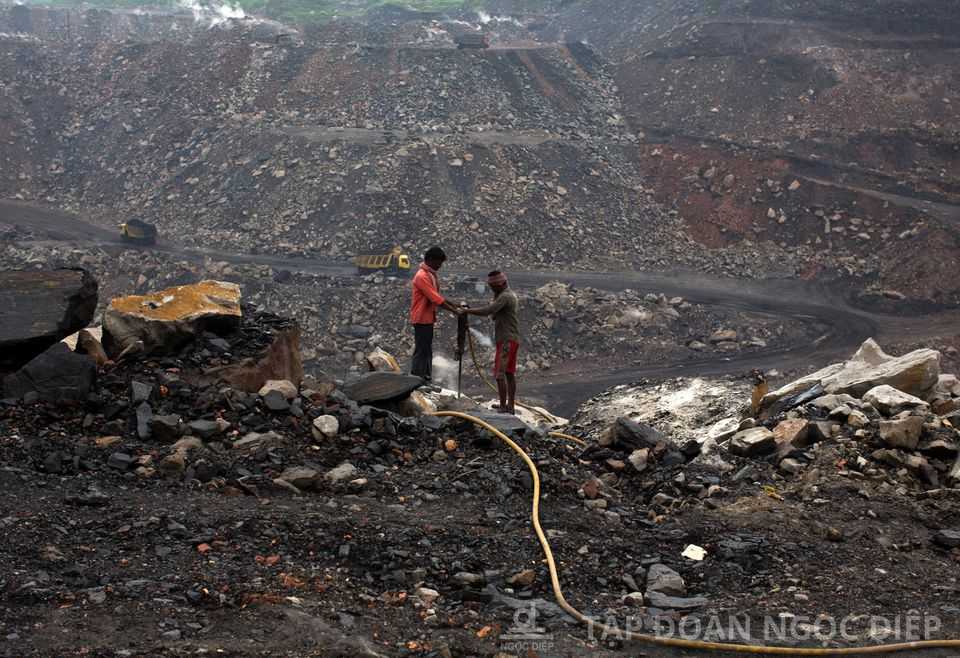 Coal India, the world's largest coal producer, cuts coal supply for the aluminum and steel industry (Photo: Reuters)
Industry insiders like to joke that aluminum is basically "solid electricity." Each ton of metal takes about 14 megawatt hours of power to produce, enough to run an average U.K. home for more than three years. If the 65 million ton-a-year aluminum industry was a country, it would rank as the fifth-largest power consumer in the world.
That meant aluminum was one of the first targets in China's efforts to curb industrial energy usage. Even beyond the current power crisis, Beijing has placed a hard cap on future capacity that promises to end years of over-expansion and raises the prospect of deep global deficits. Energy costs surging across Asia and Europe mean there's a risk of more supply cuts, and some investors are betting that prices have much further to run.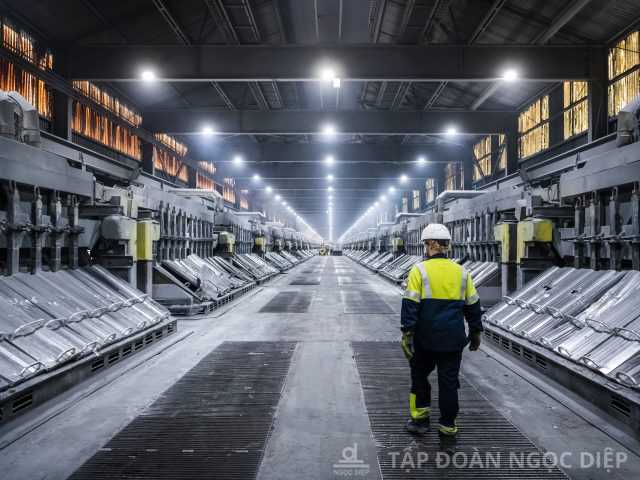 Dutch aluminum producer Adel cuts output because of high electricity prices (Image: aldel.nl)
A number of aluminum plants in China are being mothballed and the country's production has probably peaked, at least in the short term, said Mark Hansen, chief executive officer at Londonbased trading house Concord Resources Ltd. Aluminum producers in Europe are also faced with sky-high electricity prices, which erode profit margins and encourage them to cut production.
Aldel, the Netherlands' only producer of primary aluminium, announced that it is halting production of primary aluminium by 60-70% at its Delfzijl plant due to the current high electricity. Coal India, the world's largest coal miner by production, said in a statement that it had stopped all online auctions of coal except those meant for the power sector. Recently, Coal India announced that it will suspend coal supply to all other partners except power plants as India battles one of its worst power supply deficits in years. Therefore, the aluminum industry in this country is at a standstill as a result of Coal India's decision as coal cannot be imported due to very high global prices.
The domestic aluminum industry needs to take the lead in contingency planning
In the face of a sharp increase in global aluminum raw material prices and complicated developments, domestic aluminum producers must prepare backup raw materials for long-term use in order to limit drastic fluctuations in the domestic aluminum market in the future.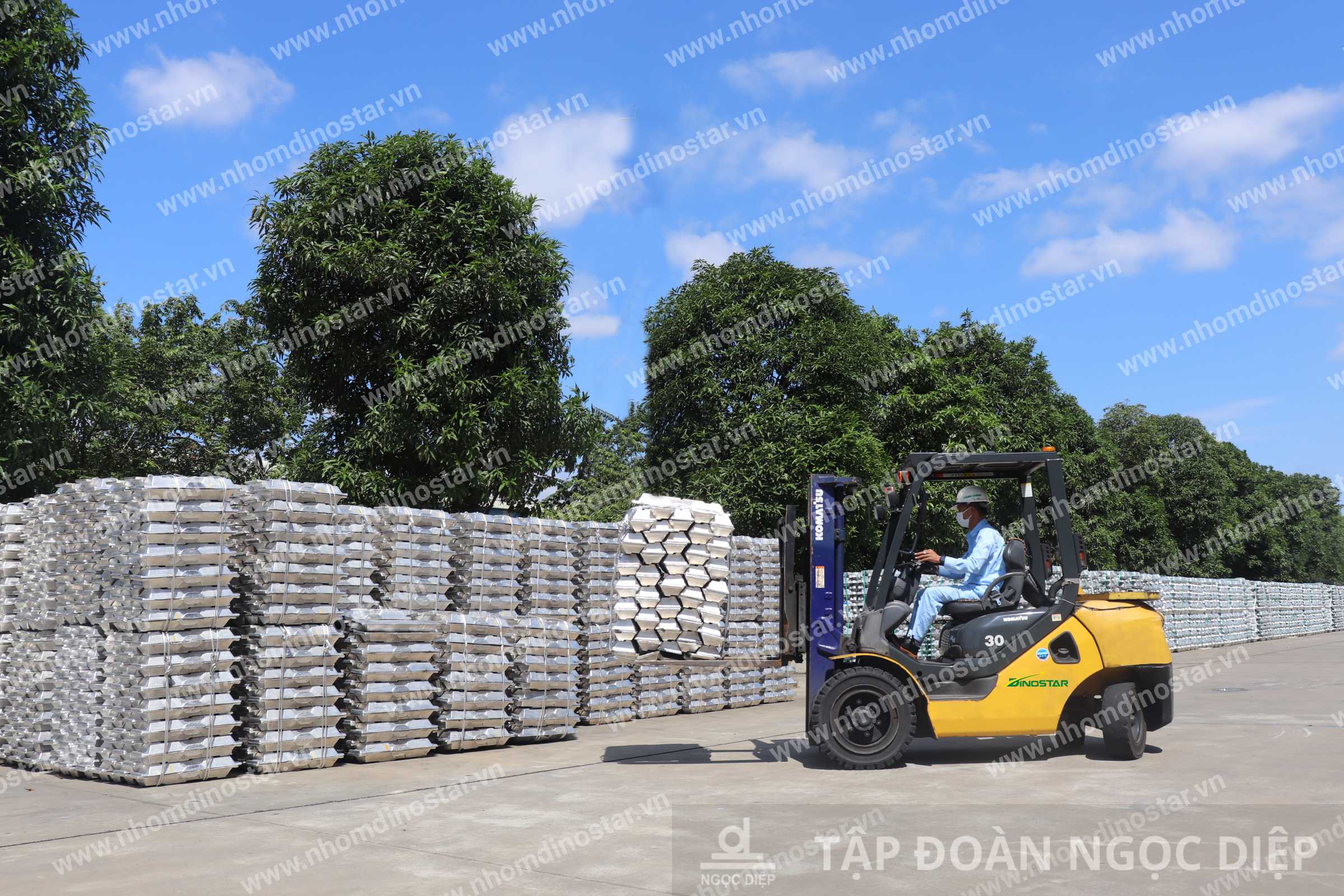 Stockpiling of raw materials by domestic aluminum enterprises before global fluctuations (Photo: Dinostar Aluminum Factory – Ngoc Diep Aluminum Joint Stock Company)
Dinostar Aluminum Factory of Ngoc Diep Aluminum Joint Stock Company actively optimizes production operation solutions to reduce costs and to stabilize product costs and share burden with consumers, customers and partners.
Aluminum prices are expected to rise sharply in the future
The approaching winter is expected to exacerbate the energy crisis, with ANZ forecasting high electricity prices and possible prolonged power outages that will affect metal supply in the coming months.
Aluminum prices have risen more than 60% this year, but investors expect the metal to gain even more. According to Bloomberg, in recent weeks, investors have been buying calls with strike prices of up to $4,000 a ton, effectively betting that prices could move significantly beyond that level to new all-time high.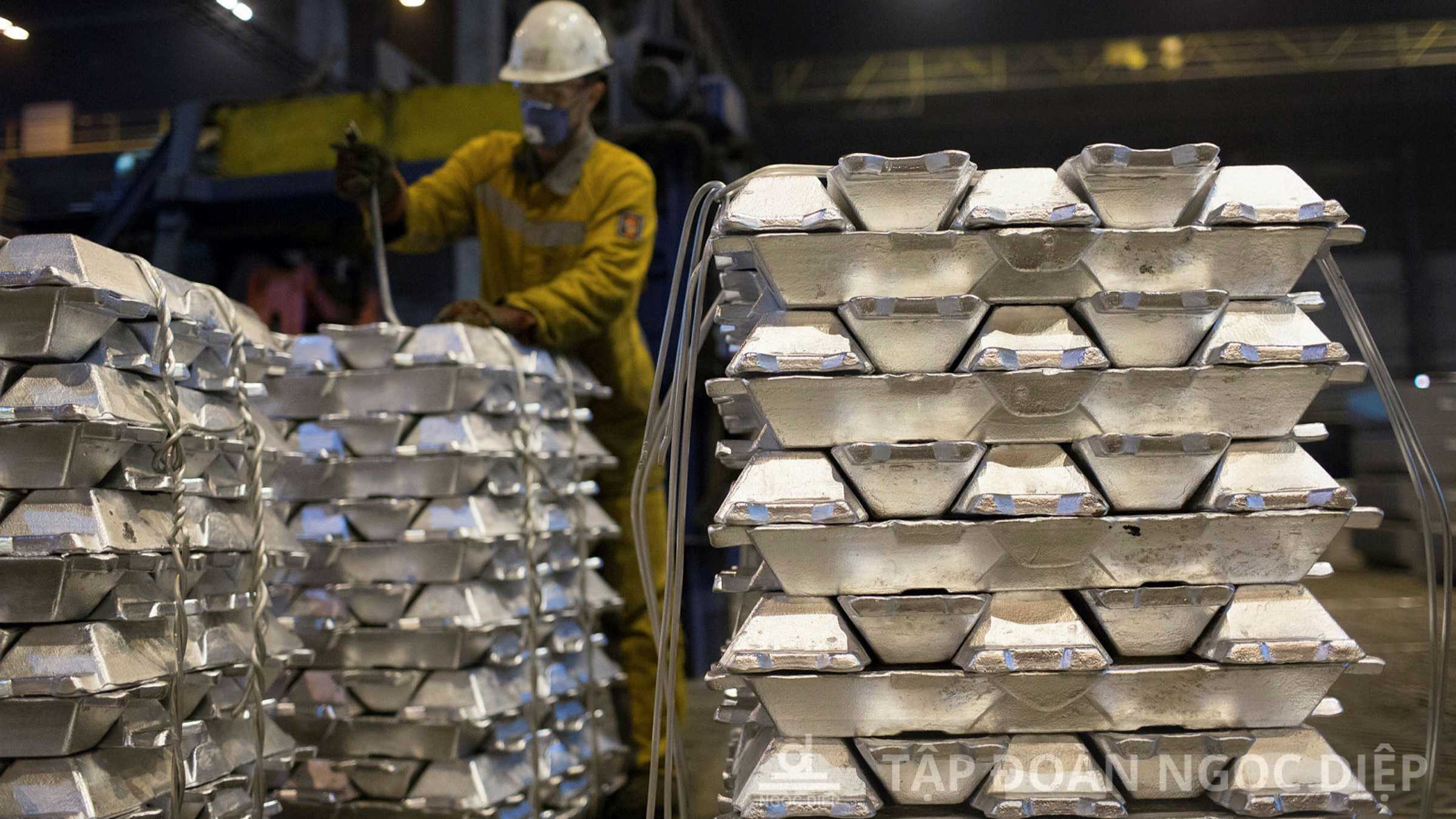 Due to supply constraints in China, aluminium prices will continue to rise in 2022 (Image: Financial Times)
Investors are watching for a possible hit to Chinese aluminum exports, traders and analysts say. With its own production under pressure and demand booming, the country has been importing ever-greater quantities of primary metal. However, it's still exporting huge volumes of semi-finished aluminum, in part supported by tax rebates.
Analysts including Goldman Sachs say there's potential for Beijing to lower or remove the value-added tax rebates on exports to slow the flow of metal beyond its borders. With China likely to continue importing huge volumes of aluminum next year, that could leave the rest of the world desperately short, and raises the risk of a violent price spike. Separately, prices got an extra boost after the European Union imposed an antidumping duty on flat-rolled aluminum from China.
"The global metal market in 2022 will be the tightest it's ever been," said Eoin Dinsmore, head of aluminum primary and products research at CRU. "The rest of the world cannot deliver these quantities to China indefinitely.
According to Reuters, Bloomberg