Ngoc Diep Joint Stock company was commended to be a typical tax payer unit of 2013
Yesterday, 29th July, Ngoc Diep JSC was honored to be invited to participate a program "Conference to commend businesses for well implementing tax policy in 2013 and talk to tax payers" held by the taxation department of Hung Yen province.
This is an opportunity for tax authorities and businesses together to look back on the accomplishments achieved in 2013, and talk to each other about the difficulties and problems in the process of implementing tax policy.
Joining the conference in the presence of leaders, representatives of the People's Committee, Taxation Department and other departments of Hung Yen provinces and more than 100 units including FDI enterprises, state-owned enterprises and non-state ones.
Ngoc Diep JSC was honored to be on the top of non-state enterprises having the biggest total amount of money given to State budget. Taxation general department commended and awarded a certificate of satisfactory progress and cup for well implementing taxation law policy in 2013 although the economy in last year was still difficult.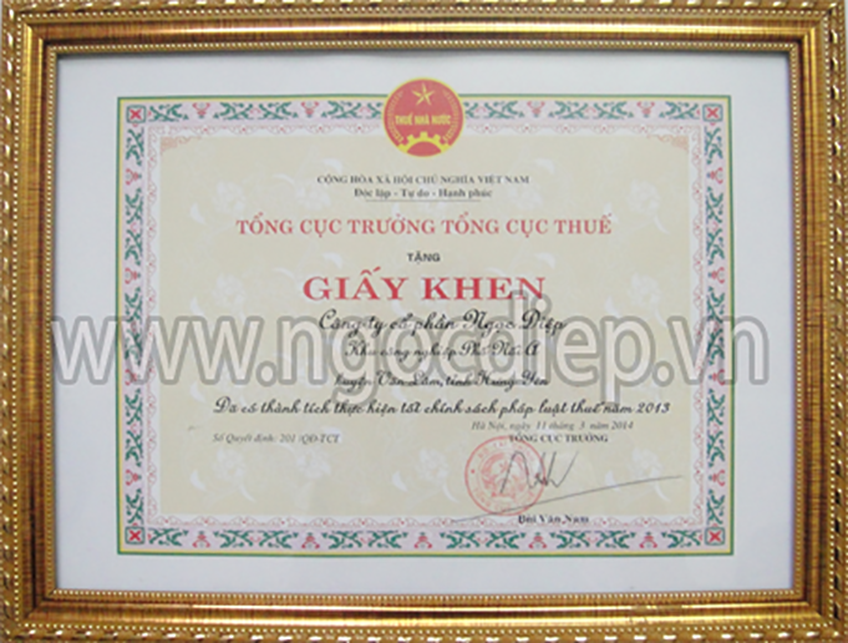 Representative of Ngoc Diep, JSC got a certificate of satisfactory progress of head of Taxation general department
In next years, Company's board of director will maintain to implement tax task well and contribute to the social and economic development of Hung Yen province.