Overwhelmed with the Century building's ideal space of National Economics University
The classroom spaces of Century building of  Hanoi National Economics University is ready to go into operation. This event is attended by not only teachers and students of  Hanoi National Economics University, but also  the whole education system in the country
With the shimmering space looks like a big theater, the extremely luxurious pictures of the "Century Building" are constantly updated on the University 's social networking site. With a large area, beautiful design with modern equipments – this is exactly learning space that everyone dream and crave to experience even once. The building has 146 classrooms, 6 conference rooms, 96 work rooms and 17 elevators.
Professor. Dr Tran Tho Dat, the principal of the University, emphasized: "The training center building is a special gift, which is acknowledged with a deep thankfulness of the teachers today to the teachers and students of the University for more than 60 years, the most sincere gratitude to the Administrators and principals of generations who has great efforts to create design idea, request the competent authorities for approval. At the same time, they has laid down the very important foundations, step by step implementing the stages of the most magnificent buildings in over 60 years . This building will be the most important place to record the history of the University as well as teachers who led the University for generations. "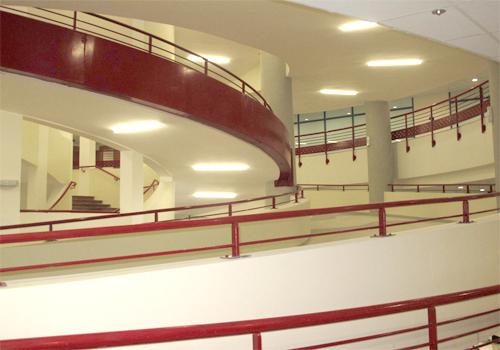 Ngoc Diep is proud to be furniture  supplier of the "Century Building",  entire furnitures of the A2 lecture hall has been in final stage, ensure timely opening, contribute to create the perfect for ideal building of one of the leading University in Vietnam.
Some pictures of the newly opened A2 lecture hall: