Ngoc Diep is honoured as the only company that was received Vietnam Value 2016 in the field of carton packaging
Established in 1998, Ngoc Diep Joint Stock Company is one of the leaders, reputable companies in the filed of carton packaging with the maufacturing plant that covers 40.000m2 at  Industrial Zone Pho Noi A – Van Lam – Hung Yen
In order to create high quality products, besides setting up Quality Management System applied to ISO 9001 ISO 14001, Ngoc Diep Joint Stock Company constantly invests modern machines and equipments. With 02 corrugating machinery with speed of 200m/minute, which can produce corrugation from 3 to 7 layers, and 5 systems of modern printers that can print from 1 to 7 colors and many of machines and equipments, it's one of the largest packaging plant that can supply 100 million boxes/year.
We are not only focus on the sustainable development of business but also implements our responsibilities with community through  annual action programmes as: supporting the victims of the flood, visting and giving gifts to the children who are orphaned, handicapped people and the pupils who are living difficult life in Vietnam.
Ngoc Diep is honoured as the only company that was received Vietnam Value in the field of carton packaging among  88 other enterprises in Vietnam according to decision 4382/QĐ-BCT dated 4th November 2016 issued by Ministry of Industry and Trade.
This is a great honour for us because this is the only Award approved by Vietnamese Government to promote the enterprises's image and brand through well-branded products. Based on the evaluation criteria and rigorous selection process. To gain this award, enterprises have to meet many of criteria as: quality, innovation, evaluating the business results, the reliability of the brand, activities supporting to the community – society, and especially focussing the sustainable development and  the service/product  quality improvement.
On the afternoon of 30th  November 2016, the Ministry of Industry and Trade held an Announcement ceremony for enterprises having products which achieved 2016 Vietnam Value. Mr Tran Huu Quang – Ngoc Diep's CEO and representatives of the 87 enterprises had the meeting with President of Vietnam Tran Dai Quang.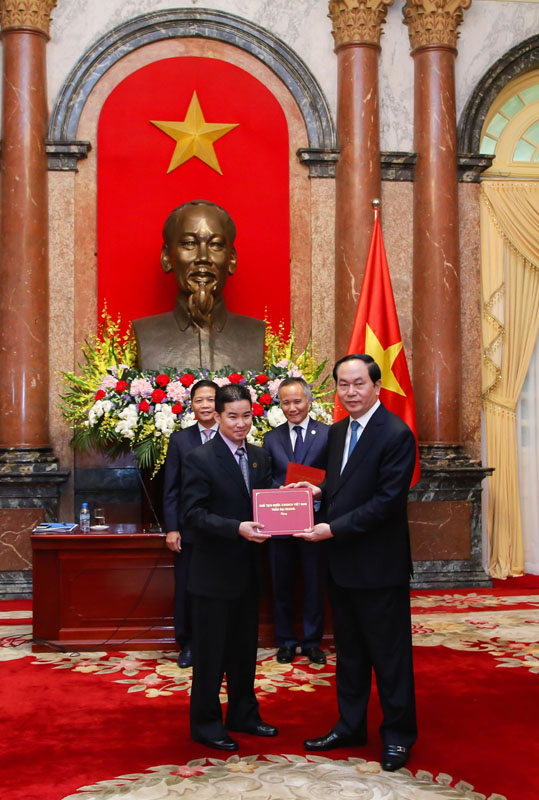 At the meeting, The President congratulated enterprises and praised their achievements in manufacturing and trading as well as their contributions to Vietnam's economy and society.
At the end of the meeting, the President said that "Reaching Vietnam Value is difficult, maintaining this title is more difficult". So, he encouraged enterprises to improve themselves and actively catch development tendency of their field.
On the night of 30th November 2016, at announcement ceremony took place in Vietnam-Soviet Friendship Cultural Palace, Mr. Tran Huu Quang represented Ngoc Diep Joint Stock Company to receive the certificate of Vietnam Value offered by organization department.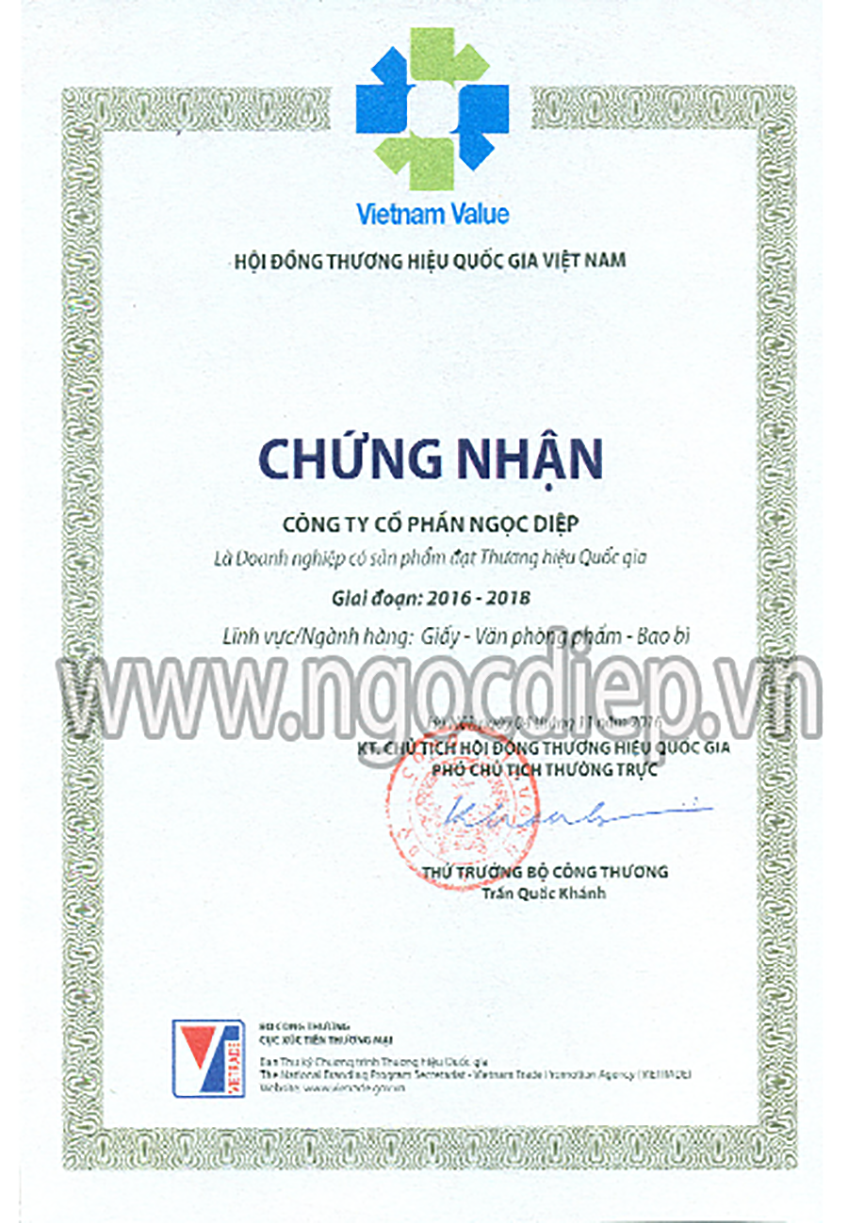 Receving Vietnam Value Award is a great honour  to Ngoc Diep in business Process Integration. We commit to continually improve upon our services, production processes and our quality management system , We are determined to build and deploy action plant according to the object that organization department proposed.