The program "Together they come to school," the company Ngoc Diep to give gifts Si Ma Cai district – Lao Cai Province
Ngoc Diep is one of the leading companies in the field of production and sales: Furniture – Packaging – Aluminium doors, Plastic doors, wall facades NGOCDIEPWINDOW brand.

From inception to date is nearly 20 years of development, company leaders are outlined orientations: Economic development in parallel with social development. So, besides the good performance of manufacturing operations, business, the company always towards social activities such as organizing charitable programs for poor children, children with difficult circumstances, orphans orphans, disabled, elderly …

Following the program "Together they come to school," which is held annually, this year is the introduction of education and training Department of Lao Cai province, Doan Ngoc Diep's company came and presented gifts to the pupils elementary and junior high Affairs hunting – Si Ma Cai District, which is also the most difficult three provinces with 100% of pupils are from ethnic minorities, and over 70% of the children are the children of the household poor families. The lives of the children also face many difficulties, but they are trying, attempts reached many remote roads struggled to go to school. Witness classes, accommodation of many needy children, the bare feet, the thin coat is not enough to keep warm during the upcoming winter …, the Company has decided to Ngoc Diep and awarded pieces meaningful gifts for the children on the threshold of a new school year include personal items such as warm clothing, socks, boots .. student supplies: backpacks, books, pens, pen boxes, exercise equipment: football, volleyball and badminton. Dining table, milk … with candy prizes, books are the heart of all officials and employees who contributed to donated to the children on the occasion of the new school year with a total value of more than 200 million gift thunderstorm.

Here are some images recorded meaningful trip of the delegation.

The preparation for the trip to be made out
Ngoc Diep stafs put the gifts on cars
And this is the image the delegation crossed bumpy, to bring gifts to hand for students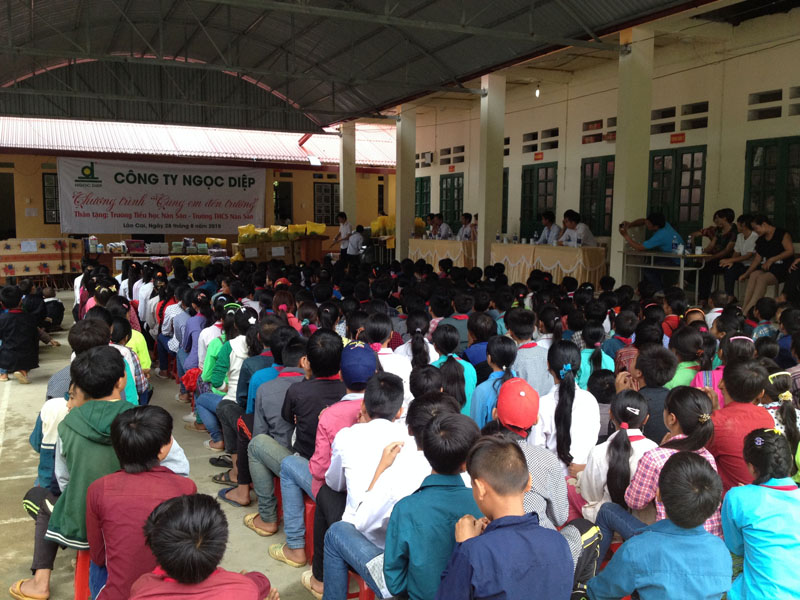 And when the delegation arrived, the students were ready to welcome ….
All the fun and excitement of the children when waiting to receive the Ngoc Diep Company's gift
According to plan, in 02 days delegation to award the pupils of Nan San No. 1 and No. 2 Primary School  and Nan SanSecondary School
Seen the eager faces, full of the joy of the children and teachers 3 siblings in school, very emotional union, injured children and teachers and students here still face many difficult struggle to get the letters, but above all, still is fun. Glad Company has brought meaningful gifts for the children. We hope that this gift does not just make you feel warmer in the coming winter, but feel the attention of the Company Ngoc Diep in particular and society in general to have more active children overcome difficulties in school.

Also in the framework of the program "Together they come to school," in August last Ngoc Diep company with the group "dream school" has awarded nearly 200 prizes including: book bags, pens, notebooks, boots rain … for students at five campuses, such as pre-schools and primary schools in the communes of Dong Van District difficulties, kindergarten and primary school in the village Village – Xin Cai communes – Meo Vac District is school of hard and most remote of Ha Giang province.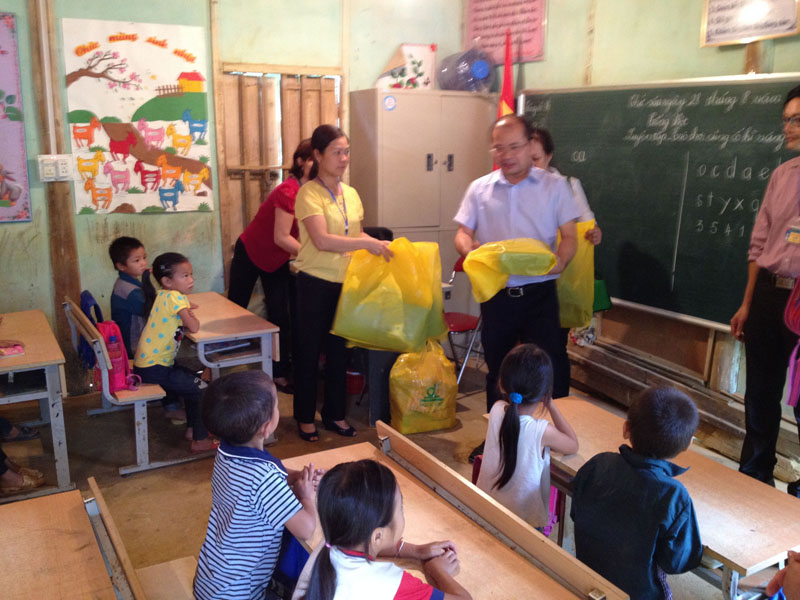 Gifts for elementary school students Xin Cai – Meo Vac – Ha Giang.
In the coming years, the Company Ngoc Diep also hopes to help more students in more disadvantaged areas, to be able to follow the children to school. Hope you are always trying to ongoing efforts to overcome the difficulties hard to always be good and excellence children become useful to society, and actively contribute to the development of their homeland as well as ofthe development of the country, it is desired and social objectives for the company's leaders have towards Ngoc Diep.